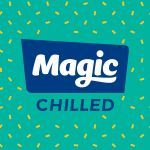 Magic Chilled is a popular British radio station that offers an eclectic mix of Pop and R&B music from the '90s until now. You can listen to the station live online or tune in through DAB+ radio. Launched in March 2016, the station has steadily grown in popularity, with a healthy mix of laid-back hits that attract a diverse range of listeners​.
The station is known for its dynamic lineup of shows, with Miri Green hosting the Magic Chilled Breakfast every weekday morning, where she keeps the audience entertained with the best Pop and R&B tracks. Similarly, Eloise Carr eases listeners through the day with the best Pop ballads and R&B tracks, featuring music from big names like Adele, TLC, and John Legend​​.
According to a 2023 YouGov survey, 53% of respondents have heard of Magic Chilled, indicating its wide reach and popularity. The survey also found that 29% of respondents like the station, while only 4% dislike it. The remaining 20% are neutral, showcasing the station's broad appeal​​.