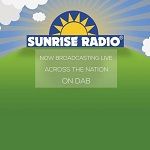 Sunrise Radio - 963 - 972 AM London
Genre:

indian

Country:

England

City:

London

Bitrate:

128 kbit/s

First air date:

5 November 1989

Frequency:

963 - 972 AM

Language:

English
Sunrise Radio is a 24-hour commercial radio station providing live entertainment, music, and news from the Indian subcontinent. Broadcasting to the Greater London area on 963/972 AM, nationally on DAB through the Sound Digital multiplex, and online, the station reaches a weekly audience of 327,000 listeners as of March 2023. Launched on 5 November 1989, it was the first 24-hour radio station specifically designed for the Asian demographic in the UK. This has made it a significant platform for the Asian community living in Britain, helping to bring about a positive change in Asian attitudes towards being in the UK and contributing to the rise of modern British Asian culture.
Sunrise Radio has had a massive impact on the face of modern British Asian media, paving the way for other Asian-specific media outlets across the UK. Within five years of Sunrise Radio's launch, Asian-specific newspapers, magazines, TV channels, and a host of other radio stations emerged. The station has been instrumental in promoting Asian trade and business, as well as bringing Bollywood, bhangra, and Asian-inspired music into the UK's mainstream. It played a significant role in boosting the careers of artists like Rishi Rich, Jay Sean, and Punjabi MC.
On 18 November 2014, Sunrise Radio celebrated its 25th anniversary, and its impact was recognized by figures such as former Prime Minister David Cameron. In 2019, the station marked 30 years on air, continuing to rule the market as the leading commercial Asian radio station in the UK.
Sunrise Radio has been the recipient of numerous accolades. It won the Radio Station of the Year award at the Asian Media Awards in 2016, 2017, 2019, and 2021. It was also nominated for the same award in 2014. In 2004, Sunrise Radio won the NTL Commercial Radio Award for Marketing Excellence and was shortlisted for the Media Week Awards – Media Brand of the Year. Over its 30 years of broadcasting, Sunrise Radio has repeatedly retained its title as the UK's No.1 commercial Asian radio station.
Contacts
| | |
| --- | --- |
| Address | 694-712 London Road, Hounslow, London, United Kingdom |
| Phone | +44 20 8574 6666 |
| Email | sales@sunriseradio.com |
| Website | https://www.sunriseradio.com/ |