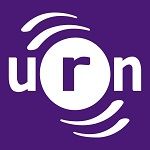 University Radio Nottingham (URN) is a multi-award-winning radio station that is part of the Students' Union at the University of Nottingham, England. The station, which is run by student volunteers from the university, broadcasts locally on the University Park Campus on 1350 AM and worldwide via its website. During term-time, URN broadcasts twenty-four hours a day, with a lineup consisting of shows from 09:00 a.m to 3:00 a.m. The station's programming includes news, feature-based speech programming, daytime personality-based programming, and evening specialist music shows​​.
Established in the late 1970s from the University's Radio Broadcasting Club, URN has a long history of innovation and excellence. It was one of the first radio stations to broadcast on the internet using the MP3 format in 1997, and started broadcasting in the Ogg Vorbis format in 2002. The station was also one of the first to use an LPAM long-term restricted service licence to broadcast to the whole of University Park on 1350AM in 2001​​.
URN has a team of over one hundred and fifty members who daily present and produce radio programs, report on the news, and work to maintain the station. The station's output includes daytime entertainment-based programs, student-focused news, sport and discussion shows, and a broad range of specialist music programs covering almost every genre of music​​.
Contacts
| | |
| --- | --- |
| Address | Students Union, Portland Building, Nottingham NG7 2RD |
| Phone | +44 115 935 1122 |
| Email | management@urn1350.net |
| Website | https://urn1350.net/ |