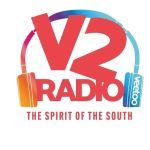 V2 Radio
Genre:

pop

Country:

England

City:

Chichester

Bitrate:

128 kbit/s

Language:

English
Drawing from a variety of sources, V2 Radio, also known as "The Spirit of the South," is a vibrant and dynamic online and DAB radio station that officially opened its doors to the public on January 18, 2021​​. Hailing from West Sussex, it was established by former members of Spirit FM, making it a station deeply rooted in the local community​.
Listeners can live stream the radio station's diverse and entertaining programming lineup via DAB Radio, online, or on mobile devices​​. The current lineup of presenters includes notable names such as Dean Adams, Duncan Barkes, Gary Booker, Ian Crouch, Mike Beeston, Mike Read, Milly Luxford, Neale Bateman, Nick Hobbs, Peter Phillips, Simon Rose, and Steve Freegard, bringing a variety of voices and perspectives to the airwaves​​.
The station prides itself on its eclectic mix of music, as evidenced by a recently played roster that included tracks from artists like Coldplay, Stevie Wonder, and Destiny's Child​​. Not only is V2 Radio a source of entertainment, but it also keeps its listeners informed about local events and issues, truly embodying the spirit of the South.