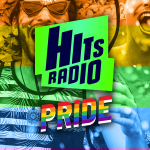 Hits Radio Pride is a lively and engaging digital radio station in the UK that is dedicated to the LGBTQ+ community. Launched on 28 August 2020, it broadcasts nationwide, offering a unique blend of music, entertainment, and thought-provoking content​​.
This station is part of the Bauer Media Audio UK network, a significant player in the UK's radio industry, and the brainchild of Ross Tilley, who initially proposed the concept for the station while working across Bauer's Northern Ireland radio stations​​.
Known for its vibrant and inclusive programming, Hits Radio Pride is easily accessible online, allowing listeners to tune in live from various parts of the UK, including Northern Ireland, Liverpool, Swansea, Bradford and Huddersfield, South Yorkshire, Humberside, Stoke and London​​. With presenters like Ben Johns, Fleur East, James Barr, Jordan Lee, Matt Crabb, and Stephanie Hirst, the station offers a diverse range of shows to keep listeners entertained throughout the day​​.
Hits Radio Pride also collaborates with LGBT+ helpline Switchboard (UK) to promote support services, reflecting its commitment to serve not just as an entertainment platform, but also a source of support for its audience​.
Playlist Hits Radio Pride
| | |
| --- | --- |
| Know That You're Not Alone - Cat Burns | Live |
| The Edge Of Glory - Lady GaGa | 20:55 |
| Miracle - Calvin Harris and Ellie Goulding | 20:52 |
| Big Energy - Latto and Mariah Carey | 20:49 |
| Drums - James Hype ft. Kim Petras | 20:46 |
| Let Me Blow Ya Mind - Eve ft. Gwen Stefani | 20:43 |
| React - Switch Disco ft. Ella Henderson | 20:40 |
| I Used To Be In Love - Jake Shears | 20:37 |
| Hold On To Now - Kylie Minogue | 20:34 |
| Space Man - Sam Ryder | 20:31 |