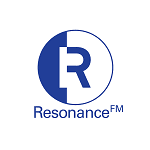 Resonance FM is a groundbreaking, London-based radio station broadcasting 24/7 on 104.4 FM to central London, DAB to Greater London, and live streaming online to the rest of the world. It was founded in 2002 and is operated by a dedicated community of volunteer engineers and programme-makers who together contribute over 105 creative broadcast series every week​​.
Resonance FM serves a core audience of half a million listeners and invites a diverse range of artistic voices to participate in their broadcast programs. The station's primary aim is to foster creativity through radio, offering its resources to a broad spectrum of artists, art forms, and communities. Its expert, arts-focused programs are designed to challenge, inspire, and transform people's creative and listening experiences​​.
The station is staffed by four permanent members and over three hundred volunteer staff, and its schedule contains around a hundred different shows. Its main operating area is Bankside and South Bank, London, and it broadcasts from a transmitter at the top of Guy's Hospital in London Bridge​​.
Resonance FM is a non-profit initiative of the London Musicians' Collective Limited, a registered charity, and receives funding from Arts Council England and generous donations from its listeners and key partners. The station is also a participant in the small-scale DAB Digital Radio trial for London​.
Playlist Resonance FM
| | |
| --- | --- |
| Clear Spot - Resonance 104.4FM | Live |
| Rockfort - Resonance 104.4FM | 19:30 |
| Hit It and Split - Resonance 104.4FM | 18:30 |
| The Waves - Resonance 104.4FM | 18:00 |
| Records Comic, Curious and Cracked - Resonance 104.4FM | 17:30 |
| Haunted Network Research Initiative - Resonance 104.4FM | 17:00 |
| Shoot The Breeze (repeat) - Resonance 104.4FM | 16:00 |
| Variations - Resonance 104.4FM | 15:00 |
| Micro Clear Spot (repeat) - Resonance 104.4FM | 14:30 |
| Around The World With The Lallas - Resonance 104.4FM | 13:30 |
Contacts
| | |
| --- | --- |
| Address | 144 Borough High Street, London SE1 1LB United Kingdom |
| Phone | +44 (0)207 407 1210 |
| Email | contact@resonancefm.com |
| Website | https://www.resonancefm.com/ |