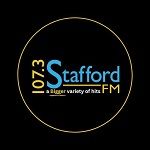 Stafford FM is a vibrant local radio station that serves Stafford and the surrounding areas, delivering an engaging mix of news, entertainment, and community information​. Since its inception in 2001, the station has grown into a beloved part of life in Staffordshire, evolving from its early days as an online-only radio station to a full-time FM community radio service that broadcasts on 107.3 FM and online​​.
Launched by former Signal Radio presenter Ray Crowther and local businessman Richard Lamont, Stafford FM was born out of a shared vision to create a radio station dedicated to Stafford​​. It faced its share of challenges, going through several RSL broadcasts and waiting for years to secure a full-time FM license. Finally, in 2014, the station was granted a full-time FM community radio license by Ofcom, marking the beginning of a new era for Stafford FM​​.
Today, Stafford FM continues to thrive and expand its reach. Broadcasting from its new broadcast center on Crabbery Street, the station has three modern studios and additional facilities that enable it to deliver a high-quality radio service to its listeners​​. It's not just about the content they air, but also the connection they have with the community. The station is known for its active involvement in outside events, hosting roadshows, and promoting Stafford FM's portability and flexibility​.
Playlist Stafford FM
| | |
| --- | --- |
| Nirvana - Come As You Are..mp3 by | Live |
| All My Life by K - Ci & JoJo | 14:40 |
| Dave Dee Wedding Disco - Unique | 09:58 |
| Underworld - Born Slippy by Underworld | 22:55 |
| Dave Dee Wedding Disco - Unique | 13:58 |
| Baby Boo - tiful | 10:58 |
| Dave Dee Wedding Disco - Unique | 10:22 |
| Baby Boo - tiful | 07:58 |
| Dave Dee Wedding Disco - Unique | 06:43 |
| Seprona - A Heart of Gold MASTER 130720 by | 19:55 |
Contacts
| | |
| --- | --- |
| Address | 27 Crabbery Street, Stafford ST16 2BA |
| Phone | +44 1785 430000 |
| Email | studio@stafford.fm |
| Website | https://www.stafford.fm/ |