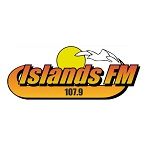 Islands FM - 107.9 FM Isles of Scilly
Genre:

pop

Country:

England

City:

Isles of Scilly

Bitrate:

128 kbit/s

First air date:

3 September 2007

Frequency:

107.9 FM

Language:

English
Islands FM is a non-profit, community radio station that serves as the only local FM radio station for the Isles of Scilly, a beautiful, unique archipelago located off the southwestern tip of the Cornish peninsula of Great Britain. Broadcasting on 107.9 MHz, Islands FM covers most of the Isles of Scilly from its radio mast located by the Coastguard Tower at Telegraph on St. Mary's island, the largest island in the archipelago​​.
Originally launched as Radio Scilly in September 2007, the station underwent a rebranding on 31st January 2020. This transformation included a new station name, a new website, new jingles, and a shift in music playlists to better reflect the audience demographics. The rebranding was a pivotal part of changing the station's perception after it had gone through a rocky period in the years prior. Despite these changes, Islands FM remains committed to its mission to inform and entertain the local community, and it continues to broadcast from the same studio at Porthmellon​​.
One unique aspect of Islands FM is that it is run by a team of dedicated volunteers who generously give their time to bring a range of unique programs to the Isles of Scilly community. Their enthusiasm helps discuss stimulating topics, keep the community informed on local matters, and provide a platform for local musicians, artists, writers, and creatives who share the same love for these beautiful, unique islands. All these factors contribute to making Islands FM a vibrant and essential part of the Isles of Scilly community​.
Contacts
| | |
| --- | --- |
| Address | Unit 21, Porthmellon, St Marys, Isles of Scilly |
| Phone | +44 1720 423263 |
| Email | office@islandsfm.org |
| Website | https://www.islandsfm.org/ |