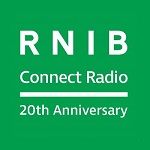 RNIB Connect Radio, previously known as Insight Radio, is a unique British radio station that is part of the Royal National Institute of Blind People (RNIB). It made history as Europe's first radio station specifically designed for blind and partially sighted listeners​​.
The station operates 24 hours a day, 7 days a week, broadcasting online, on 101 FM in the Glasgow area, and on Freeview channel 730. Live shows, presented predominantly by blind or visually impaired hosts, make up approximately half of the station's output, with the rest of the time filled with a curated selection of the best music, features, interviews, and articles from the past few days​​.
Launched in March 2007, the station originated as an online service called VIP on Air, which initially broadcast for 2 hours a day before extending its schedule to a 4-hour broadcast day. Following a significant revamp in 2007, the service was renamed as Insight Radio, before finally adopting its current name, RNIB Connect Radio, in 2016​​.
Although the station's main studios are based in Scotland, RNIB Connect Radio caters to listeners not only in the UK but also internationally, with a significant listener base in the United States and Canada. The station has other studios in Edinburgh, Cardiff, and London, with plans for expansion to more locations across the UK​​.
Playlist RNIB Connect Radio
| | |
| --- | --- |
| Lightning Seeds - Sugar Coated Iceberg | Live |
| Backstreet Boys - I Want It That Way | 21:55 |
| Fleetwood Mac - You Make Loving Fun | 21:46 |
| James Blunt - The Girl That Never Was | 21:43 |
| Toto - Africa | 21:37 |
| Pink - Get The Party Started | 21:31 |
| Waitresses - Christmas Wrapping | 21:22 |
| Johnny Marr - Somewhere | 21:19 |
| Bob Marley - Jamming | 21:07 |
| Howard Jones - What Is Love | 21:04 |
TOP 10 songs on RNIB Connect Radio
| | |
| --- | --- |
| | Bobby McFerrin-Don't Worry Be Happy |
| | Adele-Hello |
| | Yazoo-Only You |
| | James Taylor-Montana |
| | Joe Jackson-Is She Really Going Out With Him |
| | Rainbow-Since You've Been Gone |
| | Cutting Crew-(I Just) Died in Your Arms Tonight |
| | 4 Non Blondes-What's Up |
| | Labi Siffre-(Something Inside) So Strong |
| | Scott Walker-Joanna |