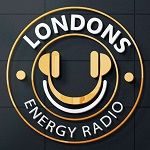 Londons Energy Radio is a British online radio station that provides a live broadcast that listeners can tune into at any time. It operates with the tagline "Music Speaks Louder Than Words"​​.
The station offers a broad range of programming to cater to diverse music tastes. At any given time, there are specific shows being broadcast, each with its unique flavor and content. For instance, the schedule includes slots like "Top 40 House," which airs from 6:00 pm - 8:00 pm and is described as being "Armed With The Biggest House Tunes Across Scotland & London Uk," and "Transparency Talks," which airs from 8:00 pm - 10:00 pm and features discussions about the trials and triumphs of entertainers and entrepreneurs​1​. There are also "Free Slots" which could potentially be filled with varied content depending on the day​​.
In addition to their scheduled shows, Londons Energy Radio features various artists on their platform. Some recent featured artists include "BB The Artist," "Reverend Dr King," and "E.Jordan"​​. This shows the station's commitment to promoting diverse talents in the music industry.
Playlist Londons Energy Radio
| | |
| --- | --- |
| MT Breeze - Money on my mind [hAc] | Live |
| Big Hot - Big | 02:52 |
| Zed Bias - Zed Bias & Juiceman | 02:46 |
| Y Tribe - Baby (Side B1 mix) | 02:40 |
| 187 Lockdown feat. D'Empress - All'N'All [hay] | 02:34 |
| Truesteppers ft Dane Bowers - True Steppers | 02:31 |
| True Steppers Dane Bowers Feat Victoria Beckham - True Steppers & Dane Bowers Feat. Victoria Beckham | 02:28 |
| Anthill Mob - Anthill Mob | 02:22 |
| Hello Fiasco - Gorgeous Girl by Hello Fiasco 24bit 48k HiRes Master ISRC QMEU32121301 UPC 085218034009 [hze] | 02:16 |
| Matthew - Can You Feel It Narek Print 2 [hAe] | 02:13 |