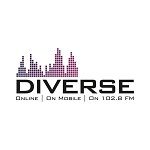 Diverse FM is a vibrant and dynamic radio station that has its roots in Luton but has expanded its reach to broadcasting throughout Bedfordshire and beyond, serving communities as far north as Northampton and as far south as Hemel Hempstead​​. Founded with the objective of offering a diverse range of music and focusing on local communities, the station was granted a full license from Ofcom in 2007, allowing it to broadcast 24 hours a day, 7 days a week​.
The station, which prides itself on playing less talk and more music, offers a rich variety of genres including Hip Hop, R&B, Bangra, Ragga, Reggae, Drum & Bass, House & Dance, Indie, and more, aiming to provide a unique listening experience to its audience. In addition, it offers a platform for fresh on-air talent, promising its listeners an entertaining experience with the stars of tomorrow​​.
Diverse FM also broadcasts live commentary and discussion for every Luton Town F.C. match, adding a local flavor to its programming and attracting sports fans in the area​​.
Listeners can tune into Diverse FM on 102.8 MHz frequency or listen live online, making it accessible to a wide audience. The station also provides opportunities for advertising, ensuring that local businesses can reach their target audience efficiently​​.
Playlist Diverse FM
| | |
| --- | --- |
| Sam Sparro - 21st Century Life | Live |
| Incognito - Keep Me In The Dark | 18:55 |
| Jungle & Joy Anonimous - JOY (Back On 74) | 18:49 |
| Goodfellaz - Sugar Honey Ice Tea | 18:46 |
| Jack Harlow - Lovin On Me | 18:43 |
| Lox - Ryde Or Die Chick | 18:40 |
| Dua Lipa - Houdini | 18:37 |
| DJ Khaled - I Did It | 18:34 |
| DJ Seinfield - Now U Do | 18:31 |
| Usher - Climax | 18:22 |
TOP 10 songs on Diverse FM
| | |
| --- | --- |
| | Dominic Fike-3 Nights |
| | Pharrell Williams-Just a Cloud Away |
| | Nelly-My Place |
| | Kenny Dope-The Bomb |
| | Owl City-Good Time |
| | DJ Jazzy Jeff & The Fresh Prince-Boom! Shake the Room |
| | Cascada-Evacuate the Dance Floor |
| | Kid Ink-That's on You |
| | Wiley-Cash In My Pocket |
| | Lucy Pearl-Dance Tonight |
Contacts
| | |
| --- | --- |
| Address | 78A Castle Street, Luton, LU1 3AJ |
| Phone | +44 1582 725500 |
| Email | studio@diversefm.com |
| Website | https://diversefm.com/ |