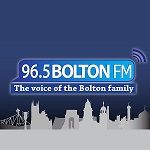 Bolton FM is a multi-award-winning community radio station that is truly the voice of the Bolton family. Broadcasting 24 hours a day from its studios located at Bolton Market in the heart of Bolton town centre, the station is a not-for-profit community interest company that relies on the support of more than one hundred valued volunteers from the local area​​.
Established on 20th June 2009, Bolton FM has been serving the Metropolitan Borough of Bolton with a unique, innovative, and local feel​. The station aims to be responsive to the wider environmental and future needs of the Bolton community, fostering local traditions and talent, providing services for the benefit, entertainment, education, and development of their audience, and promoting cultural and linguistic diversity​​.
You can listen to Bolton FM live online or on FM, and enjoy an array of shows like "This is Bolton with Kevan Williams", "Weekend Breakfast with Andy Haslam", "Hits and Headlines with Big H", "Club Tropicana with Kevin Gurney", and the popular "Folk Show with Ron Armitage" that celebrates the rich and diverse world of folk music​​.
Playlist Bolton FM
| | |
| --- | --- |
| Sophie B Hawkins - Right Beside You | Live |
| Jennifer Rush - The Power Of Love | 16:48 |
| James Brown - I Got You | 16:45 |
| Jesus Jones - International Bright Young Thing | 16:36 |
| Stevie Wonder - Uptight (everything's Alright) | 16:33 |
| Abba - Voulez Vous | 16:30 |
| Gloria Estefan - Rhythm Is Gonna Get You | 16:24 |
| Crowded House - Locked Out | 16:18 |
| Ed Sheeran - American Town | 16:15 |
| The Rolling Stones - Mess It Up | 16:09 |
TOP 10 songs on Bolton FM
| | |
| --- | --- |
| | Taylor Swift-Cruel Summer |
| | Ian Brown-F.E.A.R. |
| | Cliff Richard-Devil Woman |
| | McFly-I'll Be Ok |
| | Xmal Deutschland-Hand in Hand |
| | Aurora-Ordinary World |
| | Liberty X-Song 4 Lovers |
| | Bakar-Hell N Back |
| | Dragonette-Take It Like a Man |
| | Blondie-Union City Blue |
Contacts
| | |
| --- | --- |
| Address | Office 6, Bolton Market, Ashburner Street, Bolton BL1 1TQ |
| Phone | +44 1204 375408 |
| Email | studio@boltonfm.com |
| Website | https://www.boltonfm.com/ |