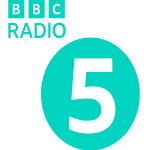 BBC Radio 5 Live is a British radio station operated by the BBC that broadcasts live news, sports commentary, interviews, and discussions. It's a popular destination for those looking to stay informed about current events, with a diverse range of programs that cater to a wide audience. The station is well-known for its live sports coverage, which includes events like the Premier League, as well as its in-depth discussions on various subjects.
The station broadcasts on AM, DAB, digital TV, and online, making it accessible to listeners wherever they are. It's available to listen live online through the BBC Sounds app, which also houses a vast archive of previous shows and podcasts.
As of Q3 2021, BBC Radio 5 Live had a weekly reach of approximately 5.41 million listeners, showcasing its substantial audience base. This audience is diverse, reflecting the wide array of topics and formats that the station covers.
Frequencies - BBC Radio 5 Live