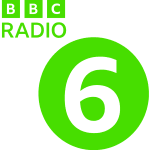 BBC Radio 6 Music is a distinctive British digital radio station owned and operated by the BBC, catering primarily to alternative music. Known officially as BBC 6 Music at its launch on 11 March 2002, it was the first national music radio station to be launched by the BBC in 32 years. The station is accessible only on digital media: DAB radio, BBC Sounds, digital television, and throughout northern and western Europe via the Astra 2B satellite​.
Described as a "dedicated alternative music station", BBC Radio 6 Music is not just focused on indie guitar music. Instead, it boasts a diverse range of music genres. Pop, rock, dance, electronic, indie, hip-hop, R&B, punk, funk, grime, metal, soul, ska, house reggae, jazz, blues, world, techno, experimental music and many other genres are regularly played on the station. Its format resembles eclectic radio stations in other countries, with a greater degree of presenter choice in relation to the programmed playlist than other BBC radio stations, and particularly in comparison to commercial radio. The station describes its output as "the cutting edge music of today, the iconic and groundbreaking music of the past 40 years, and unlimited access to the BBC's wonderful music archive"​​.
According to RAJAR, as of March 2023, BBC Radio 6 Music broadcasts to a weekly audience of 2.7 million, holding a listening share of 2.7%. Furthermore, since 2014, an annual music festival, the 6 Music Festival, has been held in different cities around the UK and broadcast live on the station, further enhancing its appeal to music lovers. In 2018, the station was the most listened-to digital-only radio station, with an average weekly audience of 2.53 million​​.
Listeners can tune in live to BBC Radio 6 Music online, immerse themselves in the diversity of its music genres, and enjoy the rich content from the BBC's vast music archive. Despite a proposal in July 2010 to close the station to provide commercial rivals more room, the BBC Trust rejected it, commenting that the station was "well-liked by its listeners, was highly distinctive, and made an important contribution"​.