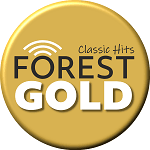 Classic Hits Forest Gold is a UK-based online radio station that plays music from the 1960s to the 1990s, including many songs that are not typically heard on traditional radio stations. This station is part of Radio Forest, a registered charity (No. 1201842) that provides entertainment to patients and staff at various NHS sites across Essex. From its studio in Epping, Essex, Classic Hits Forest Gold reaches a global audience, inviting listeners to tune in live from anywhere in the world​​.
Classic Hits Forest Gold was launched in 2002 as a service of Radio Forest, which itself was established in 1976. The station initially served the older audience at St. Margaret's Hospital, Brentwood Community Hospital, and Saffron Walden Community Hospital​​. Over the years, the station expanded its reach, eventually transitioning to an online platform in 2012​. As of 2021, Classic Hits Forest Gold can also be heard on the 99.3FM frequency in the St. Margaret's area of Epping​​.
The radio station takes pride in its community involvement, supporting many local events in Essex with live music and entertainment, and has grown into a true community service for Epping, North Weald, Ongar, Harlow, Saffron Walden, and beyond​​. The station encourages listener engagement and feedback, always keen to hear listeners' thoughts on the music played and any possible changes they might suggest​​.