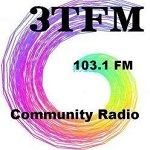 3TFM Community Radio is a vibrant and dynamic online and live radio station based in Ardrossan, UK, dedicated to serving the local communities of Ardrossan, Saltcoats, and Stevenston. Broadcasting on 103.1 FM and online via www.3tfm.org.uk, the station is a hub of local news, health information, and music that resonates with the local audience​​.
Having officially started broadcasting on 19th April 2008, 3TFM has carved out a unique identity in the radio industry by offering content that is more local than any other station in the area. The station takes pride in producing programmes for the community by the community, using local people​​.
3TFM Community Radio focuses primarily on promoting health, and in doing so, it provides valuable opportunities for volunteers who are interested in different aspects of broadcasting. The station not only offers training in live presentation, radio production, and administration but also helps local community groups reach a wider audience by playing on-air ads and dedicating special programming segments to these groups​​.
Playlist 3TFM Community Radio
| | |
| --- | --- |
| 3TFM - Broadcast Synergy (Direct). | Live |
| John Farnham - You're The Voice | 10:34 |
| Maire Brennan - Against The Wind | 10:25 |
| Liverpool Express - Every Man Must Have a Dream | 10:19 |
| Sammy Kershaw and Lorrie Morgan - He Drinks Tequila,She Talks Dirty In Spanish | 10:16 |
| Patrick Juvet - I Love America | 10:13 |
| Ken Dodd - We Are The Diddymen | 10:10 |
| Sting - Spread a little happiness (1982) | 10:07 |
| Starship - Sara | 10:01 |
| Mark Ronson featuring Amy Winehouse - Mark Ronson featuring Amy Winehouse Valerie | 09:58 |
TOP 10 songs on 3TFM Community Radio
| | |
| --- | --- |
| | Rose Royce-Help Yourself |
| | Don Henley-Everything Is Different Now |
| | Lisa Loeb-Stay (I Missed You) |
| | Tommy Dee-Three Stars |
| | Dhar Braxton-Jump Back (Set Me Free) |
| | Secret Affair-My World |
| | Heinz-Just Like Eddie |
| | Shirley Bassey-As I Love You |
| | Spice Girls-Too Much |
| | Terence Trent D'Arby-Sign Your Name |
Contacts
| | |
| --- | --- |
| Address | Focus Adult Learning Centre, Primrose Pl, Saltcoats KA21 6LH |
| Phone | +44 1294 604380 |
| Email | admin@3tfm.org.uk |
| Website | https://www.3tfm.org.uk/ |