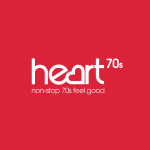 Heart 70s
Genre:

70s

Country:

England

City:

London

Bitrate:

128 kbit/s

First air date:

30 August 2019

Language:

English
Heart 70s is a captivating digital radio station that brings you the best of the 1970s non-stop, creating an ambiance that never fails to uplift your spirit. Owned and operated by Global, Heart 70s is a spin-off from the popular Heart network and caters to a substantial audience across the United Kingdom​​.
Launched on 30 August 2019, Heart 70s stands as a symbol of the captivating rhythm and melody of the 70s, broadcasting from the studios at Leicester Square in London. It offers listeners an immersive experience with a dedicated live breakfast show hosted by Carlos, from 6–10 am on weekdays. Beyond this, Carlos also hosts a Saturday show from 8am–12noon, further adding to the station's dynamic programming. However, the station is mostly an automated service at other times, providing a continuous stream of feel-good music from the 70s​​.
The station commands an impressive weekly audience of 319,000 adults (15+), who enjoy an average of 3.8 hours per week of Heart 70s. The total hours listened to Heart 70s amounts to 1,215,000 hours per week, indicating its popularity among its listeners​​.
Heart 70s can be listened to live online, on DAB, Global Player, and smart speakers, offering a versatile platform for its audience to enjoy the entrancing tunes of the 70s wherever they are​​.
Playlist Heart 70s
| | |
| --- | --- |
| Dire Straits - Sultans Of Swing | Live |
| Rose Royce - Car Wash | 21:52 |
| Dr. Hook - When You're In Love With A Beautiful Woman | 21:49 |
| Stevie Wonder - Isn't She Lovely | 21:43 |
| Michael Zager - Lets All Chant | 21:40 |
| James Taylor - How Sweet It Is | 21:37 |
| David Bowie - Life On Mars | 21:34 |
| Donna Summer - Bad Girls | 21:25 |
| Hues Corporation - Rock The Boat | 21:22 |
| Steely Dan - Do It Again | 21:19 |
TOP 10 songs on Heart 70s
| | |
| --- | --- |
| | James Taylor-How Sweet It Is |
| | Joe Jackson-Is She Really Going Out With Him |
| | The Detroit Spinners-It's a Shame |
| | Tina Charles-I Love to Love (But My Baby Loves to Dance) |
| | The Tymes-Ms Grace |
| | Paul McCartney-Wonderful Christmastime |
| | Stealers Wheel-Stuck In the Middle With You |
| | Captain & Tennille-Love Will Keep Us Together |
| | Gonzalez-I Haven't Stopped Dancing Yet |
| | Sutherland Brothers & Quiver-Arms of Mary |