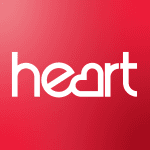 Heart FM, known on-air as "London's Heart," is a British radio network with a brand of 13 adult contemporary local stations operated by Global throughout the United Kingdom. It broadcasts a blend of local and networked programming, featuring a generally neutral rock 'n' roll playlist. The network has a rich history, having started broadcasting in the West Midlands as 100.7 Heart FM in 1994. It was the UK's third Independent Regional Radio station​​.
Over the years, Heart FM has evolved and grown, now boasting a combined reach of 8.8 million listeners as of March 2023. This impressive audience makes it the third most popular radio network in the UK, after BBC Radio 2 and BBC Radio 4. The total reach for all Heart-branded stations exceeds 11.2 million listeners​​.
Heart FM is available on various platforms, including Global Player, Freeview, Sky, Freesat, Virgin Media, and Digital One DAB. Online, it's accessible through DAB Digital Radio, FM, Freesat, Freeview (UK), Radioplayer UK, Virgin Media, and more​.
Listeners can expect to hear artists like Miley Cyrus, Ed Sheeran, and Taylor Swift, among others, reflecting Heart FM's adult contemporary format​​. The radio station is owned and operated by Global Radio, and it's a member of Radiocentre and the IAB UK​.
Playlist Heart FM
| | |
| --- | --- |
| Sonique - It Feels So Good | Live |
| George Ezra - Budapest | 03:52 |
| Chris Rea - Driving Home For Christmas | 03:49 |
| Ed Sheeran - Eyes Closed | 03:40 |
| Coldplay - A Sky Full Of Stars | 03:37 |
| Beyonce - Sweet Dreams | 03:34 |
| The Ronettes - Sleigh Ride | 03:31 |
| Calvin Harris Feat. Ellie Goulding - Miracle | 03:28 |
| Katy Perry - Last Friday Night | 03:22 |
| Olly Murs - Dance With Me Tonight | 03:16 |
TOP 10 songs on Heart FM
| | |
| --- | --- |
| | Taylor Swift-Cruel Summer |
| | Paul McCartney-Wonderful Christmastime |
| | Gabriella Cilmi-Warm This Winter |
| | East 17-Stay Another Day |
| | Jess Glynne-Don't Be So Hard On Yourself |
| | One Direction-History |
| | Fun.-We Are Young |
| | Black Eyed Peas-Where Is The Love? |
| | Blue-All Rise |
| | No Doubt-Don't Speak |