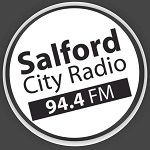 Salford City Radio is a community radio station that is based in Salford, Greater Manchester, with a broadcast area primarily covering the city of Salford. The station began broadcasting on 30 September 2007 after securing a five-year FM license and it currently operates on the 94.4 FM frequency​​.
Salford City Radio is a hub for a mixture of community news, music, and talk shows. The programming schedule includes a variety of shows like "Health Matters", "Business Hour", and "Friday Sport with Jim Petruzzi". A particular highlight is the "Local Legends with Zac Peach" show, which features the best local tunes from around the area​​.
The station's digital presence is also significant, with the ability for listeners to tune in online and live. Their social media presence, as of 2019 data, included over 9,000 followers on Twitter and almost 4,000 likes on Facebook, suggesting a substantial online audience​​.
Famous personalities associated with the station include presenter Graeme Park and station manager Jill Bowyer​​. The station also prides itself on being environmentally friendly, with their official website being powered by 100% renewable energy​​.