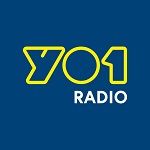 YO1 Radio is a community radio station based in York, United Kingdom. Established online in September 2017, it secured an FM license from Ofcom in February 2018 and launched on 102.8 FM at midday on 27 August 2018​1​. The station broadcasts local news, weather, travel, and community information, along with music from the 1980s to the present day​. It is named after a district of the YO postcode area covering central York​​.
The station broadcasts to the city of York on 102.8 FM, in Selby on 90.0 FM, and across the surrounding parts of North Yorkshire on DAB+ digital radio​​. Its online presence allows listeners from further afield to tune in via their phones, laptops, or PCs, expanding its reach globally. The station also has an app for Apple and Android devices, and it can be accessed through smart speakers, Tune-In, and digital TV using Roku​.
The station's programming includes the weekday breakfast program "Griffo in the Morning", hosted by former Minster FM presenter Paul Griffiths, and a weekday mid-morning program presented by local singer, actor, producer, and dancer Claire Pulpher​​.
YO1 Radio has formed several key partnerships over the years, including with York City Football Club, York City Knights RLFC, York Press, and York Barbican, thereby integrating itself deeply into the local community and culture​.
Playlist YO1 Radio
| | |
| --- | --- |
| Elton John - Philadelphia Freedom | Live |
| Johnny Hates Jazz - Turn Back The Clock | 17:46 |
| Marshmellow, Pink and Sting - Dreaming | 17:43 |
| Paul Young - Every Time You Go Away | 17:37 |
| Myley Cyrus - Wrecking Ball | 17:28 |
| Frankie Miller - Darlin | 17:22 |
| Dean Friedman - Lydia | 17:16 |
| Alicia Bridges - I Love The Nightlife | 17:13 |
| CW McCall - Convoy | 17:10 |
| Racey - Lay Your Love On Me | 17:07 |
TOP 10 songs on YO1 Radio
| | |
| --- | --- |
| | Duran Duran-Is There Something I Should Know |
| | Zoe-Sunshine On a Rainy Day |
| | Dana Dawson-3 Is Family |
| | Michael McDonald-Sweet Freedom |
| | Gladys Knight-Midnight Train to Georgia |
| | Coldplay-Trouble |
| | Feargal Sharkey-A Good Heart |
| | Let Loose-Crazy for You |
| | Ten Sharp-You |
| | Yazoo-Only You |
Contacts
| | |
| --- | --- |
| Address | Unit 1, The Raylor Centre, James Street, York, United Kingdom |
| Phone | +44 1904 530043 |
| Email | studio@yo1radio.co.uk |
| Website | https://www.yo1radio.co.uk/ |