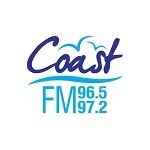 Coast FM is a community-run local radio station serving West Cornwall, broadcasting on 96.5 FM and 97.2 FM frequencies. It provides a unique blend of local news, weather, music, and talk shows, specifically catering to its West Cornwall audience. The station has established a significant local presence since it was rebranded from Penwith Radio in November 2016​.
The station's programming encompasses two main categories: Mainstream Programming during weekdays and weekend mornings, which includes charted and popular music from the '50s to today, and Specialist Programming from 6 PM on weekdays and from 12 PM on weekends, offering content for specific interests and musical tastes. Weekday programs include the 'Coast FM Breakfast' at 7 AM, 'Coast FM's Decade of the Day' at 9 AM, 'Coast to Coast' at 10 AM, 'Coast Lunch' at 12 PM, 'Coast Afternoon' at 2 PM, and 'Coasting Home' at 5 PM​.
Apart from live radio, Coast FM offers a listen-again service, Coast Player, which allows listeners to catch up on missed shows at their convenience. This flexibility has made it easy for audiences to listen online, enhancing the station's appeal​​.
Coast FM is committed to its community, involving volunteers in its operations and serving as a stepping stone for many into successful media careers. The station plays a pivotal role in community engagement, broadcasting a service that acts as a barometer of local opinion and provides companionship for people, enabling them to feel more connected and less isolated​​.
Listeners can tune in to Coast FM through various platforms: 96.5 & 97.2FM in West Cornwall, Mobile App, Smart Speakers, and Online​​.
Contacts
| | |
| --- | --- |
| Address | The Penwith Centre, Parade Street, Penzance TR18 4BU |
| Phone | +44 1736 510510 |
| Email | hello@coastfm.co.uk |
| Website | https://www.coastfm.co.uk/ |