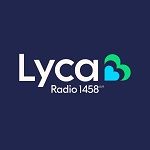 Lyca Radio is a commercial, national radio station based in the United Kingdom. Broadcasting from studios in South London, it is one of two stations carrying the Lyca brand in London, and its frequency was formerly used by Sunrise Radio which launched in 1989 before relaunching as Radio 1458 and later Lyca Radio​​.
Lyca Radio's mission is to become the UK's leading South Asian radio broadcaster, targeting the South Asian community and playing the biggest in Bollywood music including the latest hits, 90s, 80s, 70s, UK Asian, and Bhangra​​. As of March 2023, the station broadcasts to a weekly audience of 94,000, according to RAJAR​​. Lyca Radio and Lyca Gold combined cover the largest broadcast area in Greater London, reaching millions of adults​.
The radio station went national in 2018, with its AM and DAB transmission covering almost the entire UK and even parts of the European mainland​​. 
Contacts
| | |
| --- | --- |
| Address | Lyca Media II Ltd. Walbrook Building, 195 Marsh Wall, London E14 9SG |
| Phone | +44 20 7132 1458 |
| Email | Info@lycaradio.com |
| Website | https://www.lycaradio.com/ |