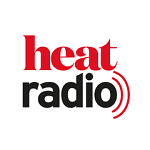 Heat Radio is a popular British digital radio station that is part of the Kiss Network, owned and operated by Bauer. Launched in 2003 as a non-stop music station broadcasting from London, it has grown over the years to reach a weekly audience of 462,000 listeners as of March 2023​​. The station broadcasts online and on Digital Radio in Scotland, providing an accessible platform for audiences to tune in and enjoy their favorite pop music live​​.
The station has seen various changes in its operation, including a move to Bauer Radio's studios in Manchester in 2009, and a return to London in 2015, where it now operates with Bauer's other national brands​​. In 2016, along with Kisstory, Heat Radio migrated from being provided on local-layer DAB multiplexes to being transmitted over the Sound Digital national multiplex​​.
In its early years, Heat Radio generally broadcasted at 64 kbit/s in mono on DAB. Following its relaunch in 2007, the service was boosted to 112 kbit/s in stereo, and later switched back to mono at 80 kbit/s​​. In 2019, Heat Radio became an online-only non-stop music station, but it returned to be broadcast via DAB via local radio in Inverness in 2020​​.