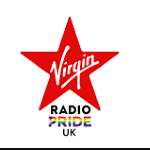 Virgin Radio Pride
Genre:

pop

Country:

England

City:

London

Bitrate:

128 kbit/s

Language:

English
Virgin Radio Pride is a vibrant British radio station dedicated to celebrating and promoting LGBTQ+ culture. Known for its eclectic programming, the station is accessible online and via DAB in London and Central Scotland, and it offers listeners the opportunity to tune in live via the Virgin Radio app across the UK​​.
Though I couldn't find specific audience analysis and numbers, Virgin Radio Pride is widely recognized for its dynamic content, which includes a mix of brilliant tunes, important LGBTQ+ conversations, and special programs exploring various aspects of LGBTQ+ life. The station's schedule features a variety of shows and presenters, including the Chris Evans Breakfast Show, and programs hosted by Steve Denyer, Shivani Dave, Stephen Sullivan, and Alex Woolhouse. The station also has special shows like "Outed in 2023" and "All About Pride"​​.
In addition to its regular programming, Virgin Radio Pride is known for hosting special events and shows. For example, it featured a new special called "My Pride Playlist" where Steve Denyer discussed favourite songs with Skin from Skunk Anansie. It also hosted "Telly Talks" where Jamaican swimmer Michael Gunning picked out his favourite television moments of all time. The station has also hosted special documentaries exploring Pride in Politics, the story of Terry Higgins, LGBTQ+ life in the army, and 50 years of Pride​​.