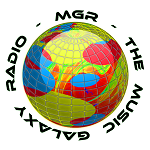 The Music Galaxy Radio - MGR
The Music Galaxy Radio - MGR is an enchanting online radio station broadcasting live to an international audience in over 130 countries and 1700 cities. Founded in 2015, MGR has grown from a small Facebook group to an online radio station with over 30 DJs and more than 40,000 listeners​.
MGR is not just a radio station; it's a family that invites both DJs and listeners to get involved. As a 100% non-profit organization, MGR is all about the music and its listeners, providing 24/7 entertainment​​.
Playlist The Music Galaxy Radio - MGR
| | |
| --- | --- |
| MGR: MGR - Soulful R&B | Live |
| MGR: R&B Slow Jam Mix - MGR | 05:28 |
| MGR: Funky House - 1 | 03:07 |
| Donnie DeeJay: NCS Monday Takeover - LIVE | 01:04 |
| MGR: MGR - Soulful R&B | 07:01 |
| MGR: MGR - Chillout Grooves | 05:01 |
| MGR: Chillout - Chillout | 03:01 |
| MGR: 26 - Genesis | 00:52 |
| MGR: 24 - The Temptations | 00:46 |
| MGR: Bob Marley - Coming In From The Cold 01 | 00:43 |