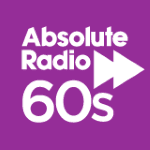 Absolute Radio 60s is an online semi-national digital radio station based in London, UK, that invites listeners to immerse themselves in the iconic tunes of the Beatles, Stones, and Motown, with live broadcasts that take you back to the vibrant 1960s​. This station, which first went on air on November 22, 2011, forms part of the Absolute Radio Network, owned and operated by Bauer Radio, and features non-stop music from the 1960s with the occasional hit from the 1950s played alongside​​.
Operating under the slogan "Home of the Beatles, Stones, and Motown," the station is geared towards listeners who appreciate a blend of the "swinging 60s" with "the sound of young America"​​. The station's programming is carefully curated to highlight musicians and bands that had a significant influence on contemporary artists, with an aim to keep the music of the 1960s relevant today​.
Absolute Radio 60s also offers a premium subscription for £3.99 per month, where subscribers can listen to their favorite Absolute Radio stations with no ad-breaks, access exclusive stations and shows, skip up to 6 songs per hour, and enjoy HD sound quality​​.
Playlist Absolute Radio - 60s
| | |
| --- | --- |
| Leader Of The Pack - Shangri | Live |
| At Last - Etta James | 20:52 |
| Baby Come Back - The Equals | 20:49 |
| Here Comes The Sun - The Beatles | 20:46 |
| Sunshine Superman - Donovan | 20:40 |
| Time Is On My Side - The Rolling Stones | 20:37 |
| Dream A Little Dream - Mama Cass | 20:34 |
| Beggin' - The Four Seasons | 20:31 |
| Land Of 1000 Dances - Wilson Pickett | 20:25 |
| Wichita Lineman - Glen Campbell | 20:22 |