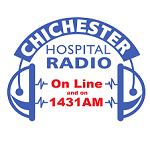 Chichester Hospital Radio (CHR), operating under the Chichester Hospitals Broadcasting Association, is a local British radio station dedicated to serving patients, staff, and visitors of St. Richard's Hospital in Chichester, West Sussex. Established in 1972, this charitable organization staffed entirely by volunteers provides an entertaining and professional broadcasting service tailored to the unique listening needs of their audience​​.
CHR offers a variety of programming, including informative and entertaining shows, a nightly Patient Request Programme called 'The Listener's Choice', and a mix of speech-driven material featuring classic comedy, local news, magazine features, documentaries, dramas, poetry, and stories. This wide range of content is designed to support the well-being of listeners, especially those who are unwell or hospitalised​​.
This radio service is truly local, broadcasting live from studios within the hospital grounds. The station's presenters regularly interact with listeners before, during, and after programs, reinforcing a strong connection with the community. In recognition of their audience's diverse musical tastes, CHR airs a wide variety of relaxing styles from easy listening music to specialist programs such as jazz, country, light orchestral, folk, and adult orientated rock​​.
Listening to CHR is easy and accessible, with options to suit everyone's preferences. The station broadcasts 24 hours a day, 7 days a week. You can tune in via the TuneIn link found on every page of the CHR website, ask your smart home or speaker device like Alexa to play Chichester Hospital Radio, or simply tune in on 1431AM on a traditional radio device​.
Contacts
| | |
| --- | --- |
| Address | St. Richard's Hospital, Spitalfield Lane, Chichester, West Sussex PO19 4SE |
| Phone | +44 1243 788122 |
| Email | studio@chr1431.org.uk |
| Website | https://www.chr1431.org.uk/ |