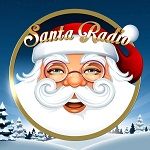 Santa Radio, known as "The World's Best Christmas Radio Station," is a unique online radio station that serves its audience with a blend of classic and contemporary Christmas music all year round​​.
The station offers a diverse playlist that includes songs from renowned artists such as Dean Martin, Tom Jones, Kylie Minogue, Michael Buble, Madonna, and Ariana Grande among others​. Whether you're in the mood for Dean Martin's "Let It Snow! Let It Snow! Let It Snow!" or Ariana Grande's "Winter Things," Santa Radio has got you covered.
One of the unique features of Santa Radio is its interactive nature. The station prides itself on being a commercial-free platform where listeners can send in messages, which are then played between songs​​. This interactive feature, along with the station's amusing Santa presenter, adds a personal touch to the listener's experience, making them feel part of the Santa Radio community.
In addition to its live online presence, Santa Radio also offers a mobile app developed with the help of Santa's 'techy' elves, making it possible for listeners to enjoy the festive cheer wherever they are​​. This has made the station a popular choice for 'on the go' listeners who want to keep the Christmas spirit alive throughout the year.